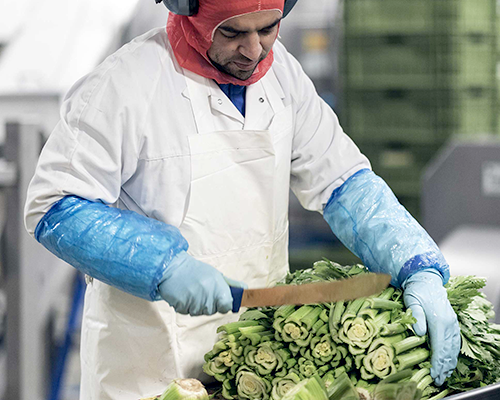 Our progress
We continuously research new options to prevent food waste. Trials with new technologies to extend the shelf life of fresh produce have shown promising results. Further in-depth trials are planned over the next year to assess the business case for the respective fruit and vegetable products. Elsewhere new partnerships are being explored – beyond the food banks and charities we are supporting today – to increase the redistribution of quality rejects which are still fit for human consumption.
Aside from food waste, we aim to have 100% of the consumer packaging recyclable by 2025. This year, we used about 67,678 tonnes of consumer packaging for our products. The main packaging materials consist of plastics and cardboard in the Fresh division, plastics in the Frozen division, and steel cans and glass in the Prepared division. Further efforts in using recyclable packaging alternatives result in a share of recyclable consumer packaging of 98.8%, notwithstanding the divestment of Greenyard Prepared Netherlands (which mainly used steel and glass).
Within the Prepared division we entered a research project to develop a 100% recyclable stand-up pouch for soups and sauces. This type of packaging is increasingly popular because of its low weight, which results in a better footprint concerning transport. Within Greenyard this is the main packaging type we need to address to get to 100% recyclable packaging. Elsewhere trials were conducted with bio-based plastics to improve the product footprint of our fresh convenience range.
Future plans
We are committed to use 100% recyclable consumer packaging by 2025. We also plan to use 30% of recycled content in non-food contact packaging by 2030.