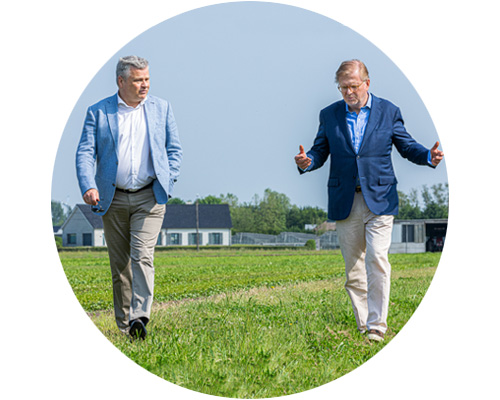 To all our customers, growers, employees, business partners and shareholders,
2020 has been a year like no other. Both inside and outside our company. The COVID-19 pandemic added a new dimension to daily life, and it reminded us of the role we as individuals, but also as a company, should play in contributing towards a healthy society. For Greenyard, it was also the year we completed our Transformation Plan and continued accelerating towards our ultimate ambition – to become a driving force for healthier lifestyles and more sustainable food supply chains.
In March 2020, the world woke up to a whole new reality. Suddenly, our lives and our economy seemed to come to a virtual standstill. In a joint global effort to beat the coronavirus, and with the safety of family, friends and colleagues as the number one priority, a lot of people were confined to their homes.
But not everyone. The emergency services and medical personnel were on the front line, protecting us and taking care of us. But also, many of our colleagues working in distribution centres and our production facilities, growers and truck drivers, left their homes to ensure healthy food remained available throughout the year. Our colleagues have shown resilience, commitment and open minds, adapting to a new way of working in a very short time to assure business continuity, and this in a rapidly changing context.
The lockdown changed people's consumption patterns, with demand shifting from restaurants and food service to the aisles of supermarkets. At the same time, growers were faced with short-term labour complications and customers found themselves faced with higher demand. But along with our customers and growers, we rose to these logistical and organisational challenges and harnessed our creativity to safeguard supplies of healthy food when and where people expected it.
Completion of Transformation Plan
2020 has also been a remarkable year for Greenyard in another very different respect, since it marked the completion of our Transformation Plan turning Greenyard into a more agile and efficient organisation, allowing us to further increase focus on our purpose.
Most notably, we accelerated the organisation's shift to an integrated customer model, successfully developing and growing long-term relationships with some of Europe's major retailers. We also made considerable progress rationalising our operations and creating economies of scale across countries, departments, and divisions. Continuous improvement and a relentless customer focus became core elements and a permanent mindset for everyone in our organisation.
Today, we are already reaping the benefits of our hard work. The financial results for AY 20/21 speak for themselves. Net sales increased by 8,7% to reach € 4 416,2m while adjusted EBITDA (post-IFRS 16) increased from € 133,4m to € 156,9m, up € 23,5m (+17,6%). Adjusted EBITDA (pre-IFRS 16) amounted to € 116,6m, a 21,8% increase compared to the previous financial year. These results came in well above expectations and had a positive impact on our leverage ratio (net debt/ LTM Adjusted EBITDA, pre-IFRS 16) which improved from 4,4x last year to 2,9x on 31 March 2021.
Future-proof
At the end of March, the final piece of the puzzle fell into place. We secured new, long-term financing with our trusted relationship banks, and we attracted new long-term investors for a total capital increase of € 50,0m.
Today, Greenyard is a stronger, leaner and a financially more robust company, with a unique position in the marketplace. And the future is looking healthier than ever. More people than ever before have come to realise we need to change the way we consume and produce food. COVID-19 has made us even more aware of the importance of health and the vulnerability of our current way of living. As one of the largest suppliers of fruit and vegetables in the world, we are in a pivotal position and fully embrace our responsibility to drive the transition to healthier lifestyles and more sustainable food supply chains.
By making fruit and vegetables more accessible, more convenient and more affordable, we want as much people as possible to enjoy their many benefits. Our aim has always been to provide people with great and healthy products for every lifestyle and every moment of the day. Because of their lower environmental impact, increasing consumption of fruit and vegetables can also fulfil the growing global demand for food, without exhausting our planet. We need to work on both sides of that equation.
Together
Greenyard cannot do this alone. If we want to make a real impact, we need strong collaboration throughout the entire value chain. The long-term integrated relationships we have built with many of our most important customers and growers are critical in this respect. By working in a transparent, open and integrated manner, we can create shorter and more efficient supply chains, to the benefit of everyone involved, from grower to consumer.
This year's performance, and our unique position in the food value chain, will allow us to continue along our sustainable growth path and live up to our ambition to improve life. The life of everyone consuming our healthy products, the life of all our employees and the people we team up with in our food value chain and of course also life on earth, as we must make sure the way we operate is sustainable and we foster and protect nature.
To achieve this ultimate goal, we know we can count on our passionate employees, an extensive and solid network of devoted growers, a powerful base of business partners and increasing support from within society as a whole.
With this report, we want to embark you on a journey, sharing our ambition and our passion, for you to discover the unrivalled potential of fruit and vegetables to create a healthier and more sustainable future.
Hein Deprez, Marc Zwaaneveld, co-CEOs Greenyard